IT Specialist Exam Voucher + Retake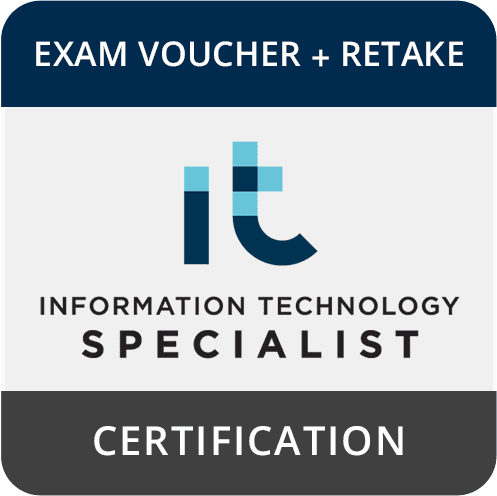 This product includes one IT Specialist exam voucher with a retake and may be used for any of the IT Specialist exams.
The Information Technology Specialist certification program validates foundational IT skills sought after by employers. IT Specialist certification helps prepare and qualify candidates for a career in IT, closing the skills gap.
Expand each section to learn more about what's included in this product.
Certify

IT Specialist Exam Voucher with Retake

The Information Technology Specialist program is a way for candidates to validate foundational IT skills sought after by employers. The IT Specialist program is aimed at candidates who are considering or just beginning a path to a career in information technology. Candidates can certify their knowledge in a broad range of IT topics, including software development, database administration, networking and security, mobility and device management, and coding.

The IT Specialist program is endorsed by SAS, Cisco Networking Academy, Certnexus, ISTE, and more. For additional details, please click here.

Exam vouchers are transmitted electronically via e-mail and are non-refundable.
Expires one year after date of purchase.
Please allow up to two days for processing.
The holder of this voucher number is entitled to take one exam at a Certiport Authorized Testing Center.
The voucher number can be used to take any one of the following IT Specialist certification exams: Artificial Intelligence, Cloud Computing, Computational Thinking, Cybersecurity, Databases, Data Analytics, Device Configuration and Management, HTML and CSS, HTML5 Application Development, Java, Javascript, Networking, Network Security, Python, or Software Development.
In the event that you do not pass the exam, a retake code will be emailed to you. You may retake the exam after waiting 24 hours from the time your initial exam was first started. Retake vouchers for IT Specialist must be used within 60 days of the failed exam.
Certiport Authorized Testing Centers (CATCs) reserve the right to charge a proctoring fee.

Technical Requirements:

You must take the certification exam at a Certiport Authorized Testing Center. For more information see the Getting Started page.