BrainBuffet PMI Project Management Ready Online Course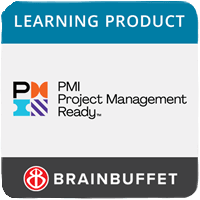 This online, video-based online course created by BrainBuffet and hosted on the GMetrix platform prepares test candidates to take the PMI Project Management Ready exam.
BrainBuffet hires award-winning industry experts to teach curriculum in fun and engaging ways to ensure you are prepared for the certification exam.
Includes unlimited, single-user access for one year.
Expand each section to learn more about what's included in this product.
Learn

BrainBuffet Courseware

This course includes Student Project Files (handbooks) with space for note taking, pre-assessment and assessment questions. The course includes 4.10 hours of video and takes about 18 hours to complete. Does not include practice tests.

BrainBuffet courses are delivered on the GMetrix platform, which means you can access any CertPREP practice tests you may have purchased at the Certiport Store using your same login credentials.

After the online course is purchased, you will receive an email containing the product code and instructions on how to redeem your code to access the course.

Technical Requirements:

The GMetrix platform is compatible with all modern desktop and mobile web browsers and operating systems. A high-speed internet connection is required.