ESB Bundle: Course, Practice Tests, Voucher + Retake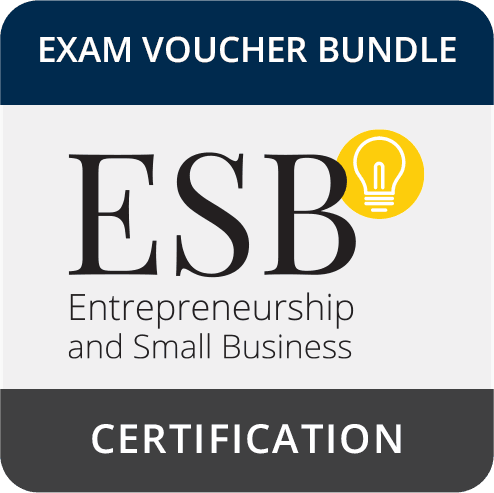 This product includes the learn-practice-certify products needed to prepare candidates for the ESB-US v.2 exam. Includes:
LearnKey Online Course for ESB – single title
CertPREP Practice Tests powered by GMetrix for ESB – single title
Entrepreneurship and Small Business v.2 – U.S. (ESB) certification exam voucher with a retake
Expand each section to learn more about what's included in this product.
Learn

LearnKey Courseware

LearnKey is a premier global provider of self-paced education and training solutions for education and personal users. For over two decades, their mission has been to create flexible expert learning solutions – solutions that work for everyone because they are not only easy to use, but they are extremely engaging and interactive. LearnKey brings the classroom experience to you – where and when you need it. LearnKey has built its reputation by delivering the highest production quality courseware, adhering strictly to learning objectives and strong instructional design.

Gain the skills and confidence required to successfully obtain your Entrepreneurship and Small Business certification
Test prep questions that meet all ESB exam objectives
View your online courseware anytime, anywhere
User is granted unlimited use for a year
Valid for one user only
Course takes approximately 13 hours to complete

The LearnKey course is delivered on the GMetrix platform, which means you can access any CertPREP powered by GMetrix practice tests you may have purchased at the same site using your same login information. After the online course is purchased, you will receive an email containing the product code and instructions on how access the course. When you redeem your code in GMetrix, select the ESB-U.S. v2 course.

Technical Requirements:

The GMetrix platform is compatible with all modern desktop and mobile web browsers and operating systems. A high-speed internet connection is required, and we recommend a download speed of at least 10 Mbps. There are no additional system requirements for most available courses.
Practice

CertPREP Practice Tests

CertPREP practice tests for the ESB v.2 certification are designed to replicate the certification exam experience so Test Candidates can better prepare themselves for the actual exam. The CertPREP practice tests use the same exam format as the Certiport certification exam and are mapped to the certification objectives so the Test Candidate is assured that they are practicing the skills that will help them pass the certification exam.

Practice tests are offered in two modes:

Testing Mode:

Test Candidates experience what the certification exams will be like
Timed practice test that performs just like the actual certification exam

Training Mode:

Test Candidates work at their own pace as they receive feedback
They may opt to access step-by-step instructions or help for each question

This GMetrix single title application license allows you to take up to 30 practice tests for the ESB v.2 title during a one year period. When the license holder activates this license, you will be able to choose the GMetrix title for ESB v.2. Once you have chosen a title, the license will then be locked down to allow you to access only the chosen title.

After the practice test license is purchased, you will receive an email containing the product code and instructions on how access the practice tests.

Technical Requirements:

Complete technical requirements are listed here.
Certify

ESB Exam Voucher with Retake

The ESB certification is built to test and validate foundation-level concepts and knowledge in entrepreneurship and small business management. These core concepts include entrepreneurship; recognizing and evaluating opportunities; planning for, starting, and operating a business; marketing and sales; venture capital and seed funding; and financial management.

Exam vouchers are transmitted electronically via e-mail and are non-refundable.
Expires one year after date of purchase.
Please allow up to two days for processing.
The holder of this voucher number is entitled to take one exam at a Certiport Authorized Testing Center.
The voucher number can be used to take the ESB v.2 exam.
In the event that you do not pass the exam, a retake code will be emailed to you. You may retake the exam after waiting 24 hours from the time your initial exam was first started. Retake vouchers must be used within 30 days of the failed exam.
Certiport Authorized Testing Centers (CATCs) reserve the right to charge a proctoring fee.

Technical Requirements:

You must take the certification exam at a Certiport Authorized Testing Center. For more information see the Getting Started page.