MSi Online Course for PMI Project Management Ready™ Certification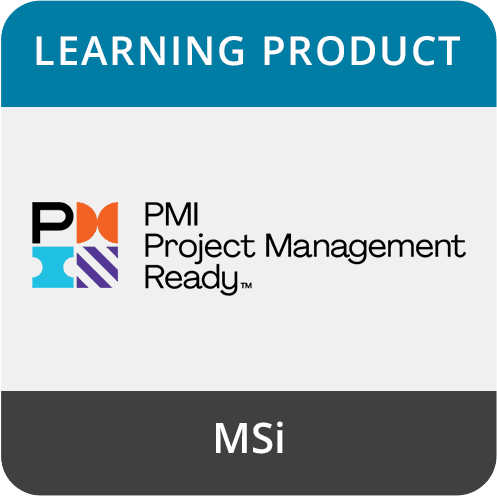 This product includes access to MSi's PMI Project Management Ready ecourse for one user for one year.
Expand each section to learn more about what's included in this product.
Learn

MSi Courseware

This online course prepares Test Candidates to take the PMI Project Management Ready exam. Users receive access to the course for one year.

Instructions to access this course are delivered via email from Moore Solutions (MSi). Please allow up to two business days for processing.

Project Management Ready Interactive Courseware by MSi

Project Management Ready is an online educational program designed to provide Test Candidates with an understanding of key concepts and terminology related to project management.

Using MSi's interactive courseware technology, you will learn project management skills in an engaging, challenging, rigorous, and relevant environment. MSi has been a developer of quality curricula since 1996, providing courseware designed to prepare Test Candidates for industry certifications.

What's included in MSi's Project Management Ready Course?

4 Chapters that cover Core Terminology, Plan-Based Methodologies, Agile Frameworks, Business Analysis Frameworks
18 Topics 100% aligned to the certification objective domains set forth by the Project Management Institution
27 Interactive Knowledge Checks integrated within the topics, giving users an interactive experience that makes the course more engaging and informative
18 Quizzes that give users instant feedback to track and measure learning gains
18 Case Studies to emulate real-world project management situations
4 Sets of Vocabulary Activities giving users a complete understanding of the terminology necessary to becoming project management Ready
4 Comprehensive and time Projects aligned to the Project Management certification exam objectives

Technical Requirements:

The Project Management Ready course by MSi is entirely web-based and can be completed, including grades, on any device with an internet connection, including a PC, Mac, Chrome book, or tablet.